Article by Kara Headley
Developmentally Edited by Alexandra Hidalgo
Copy Edited by Megan Elias
Posted by Kara Headley
Alexandra Hidalgo, professor of Writing, Rhetoric, and American Cultures and an award-winning documentary filmmaker, gave a lecture on November 1, 2019 as part of the University Interdisciplinary Colloquium put on by Michigan State University.
The lecture, titled "Making Feminist Documentaries Across Continents," focused on Hidalgo's journey making her in-production feature documentary The Weeping Season and collaborating with editor Cristina Carrasco, whom she has never met in person. While Hidalgo lives in the US, Carrasco splits her time between Argentina and Spain. As she discussed in the presentation, they perform their editing through digital platforms and video conferencing. In this presentation she showed footage of her collaboration with Carrasco, discussing how that collaboration helps her theorize the idea of belonging to a diaspora, which Venezuelans have now become after two decades of economic and political struggles in their country, and how digital spaces transform our ability to communicate with others.
Her film, The Weeping Season, is about Hidalgo's search for her father, who went missing in the Amazon rainforest when she was six years old. She started filming in 2004, traveling around Venezuela, the United States, Spain, and Portugal during her filming.
When looking for an editor, Hidalgo wanted to find a Venezuelan woman like herself. In the true spirit of digital communication, a mutual Facebook friend connected her to Carrasco. Despite the two having never met in person, they share a bond from working together for almost two years now.
Hidalgo detailed how it is a challenge to work with someone she cannot be face to face with. They often use Skype to work together, which allows them to see each other, but Skype cannot keep up with their editing software, so they cannot see what the other is doing on the computer. Hidalgo put together short videos to illustrate how she and Carrasco work together. At one point in the video, Hidalgo asks Carrasco to play back a part of their film. Like Hidalgo herself, the audience cannot see the film, but they can hear the audio and they feel how disorienting editing a film that way can be. Together, Hidalgo and Carrasco decide where to cut the film.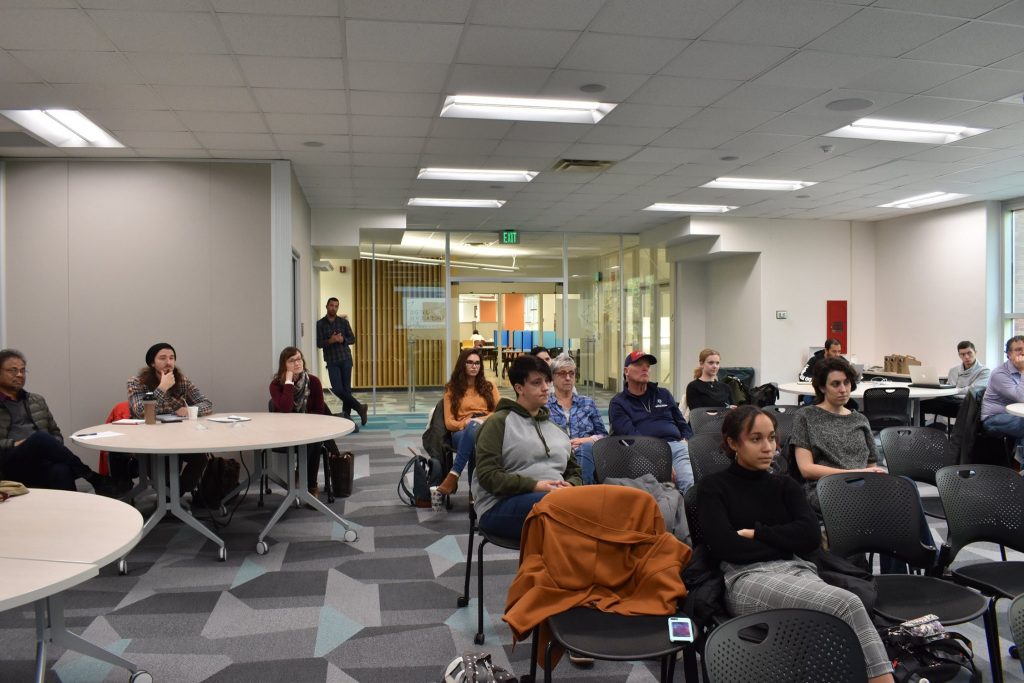 Even with the challenges, Hidalgo and Carrasco have become friends over the months of working and creating together. Hidalgo described a friendship of mutual respect and companionship, all through the computer screen, and how grateful she was to have found Carrasco to work on this film and take this journey with her. Hidalgo films herself sitting at the computer, speaking with Carrasco on the other end. The two women talk about how through their work, they are able to connect to one another and their home country, despite not being able to return home. Hidalgo connects this to the experience of many other Venezuelans who need to communicate with each other through online spaces as more and more of them flee their homeland and have to establish relationships across screens.
Hidalgo also touched on the process of making a film for both English and Spanish speaking audiences. She uses English narration and subtitles, and she has considered rerecording the voiceover for her Spanish-speaking audience. This, however, would require reworking a large part of the film, a challenge she is not sure she will undertake at this moment.
To see what else Hidalgo has done, take a look at her website, Facebook, Twitter, Instagram, and sign up for her community letter. You can learn more about The Weeping Season on the film's website.
About the Writer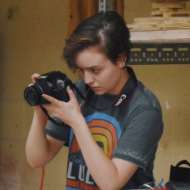 Kara Headley joined agnés films in June 2019 as social media manager. She is a third year undergraduate student at Michigan State University, majoring in Professional Writing and double minoring in Documentary Production and Environmental and Sustainability Studies.
Kara has held a variety of jobs during her time at MSU. Currently she works for the MSU Innovation Center as a Communications/Videography Intern. She has also worked as a Consultant for the Writing Center and Videographer for the Multimodal Research Group. She frequently volunteers as Script Supervisor with Nain Rouge Films, a film company from her home town of Macomb, Michigan.