Writing by Claire Bahorski
Copyedited and Posted by Iliana Cosme-Brooks
The Michigan State University Doc Lab is fortunate to feature a diverse and accomplished group of faculty who work to foster a creative and edifying environment for its students. Among them is the Doc Lab's Co-Director, Alexandra Hidalgo, a Venezuelan filmmaker, theorist, memoirist, and editor who has received many accolades for her filmmaking and scholarship work.
Among her numerous film projects, Hidalgo has trouble naming a favorite. However, she discusses her enjoyment of working on her latest short project, Teta: A Nursing Mother Shares Her Story. "Teta, my short documentary about nursing my youngest son Santiago for 22 months was a delight to make, and it has screened and received awards at film festivals around the world. I made the film to inspire expecting mothers to give breastfeeding a try, and it has certainly done that, but one of my favorite things is when young men come and tell me they love the film after a screening. I am fascinated by their enthusiasm because they couldn't be further away from my target audience. It means the film works at a more universal level, which is very hard to do." Teta is now available on Vimeo On Demand.
Teta: A Nursing Mother Tells Her Story from Alexandra Hidalgo on Vimeo.
When seeking answers to the creative questions that plague her own filmmaking, Hidalgo relies on nature. "I walk in the woods every morning to let my mind wonder and come up with answers for my creative and personal life. It's astounding what trees and the sound of birds singing can do for your mind. What I'm describing is the kind of inspiration that solves minor and sometimes major fissures in our projects, not necessarily what inspires my work as a whole," she says. Overall, it is her passion that drives her to complete these projects, and one overarching topic inspires her work: love. "If you're not passionate about the project, you won't complete it because it's a very arduous process. There are also, of course, moments of literal magic when everything comes together and the story (and the world itself) glow spectacularly for you and everyone involved. I try to make films that allow for those magical moments to occur as often as possible. Love with its strange and marvelous complications is the topic I keep on returning to in my work, so I guess you could say love is what inspires me the most when it comes to making a film. Can I tell a story in a way that will get audiences to explore their own feelings of love in new and profound ways? If the answer is yes, I will likely want to tell that story."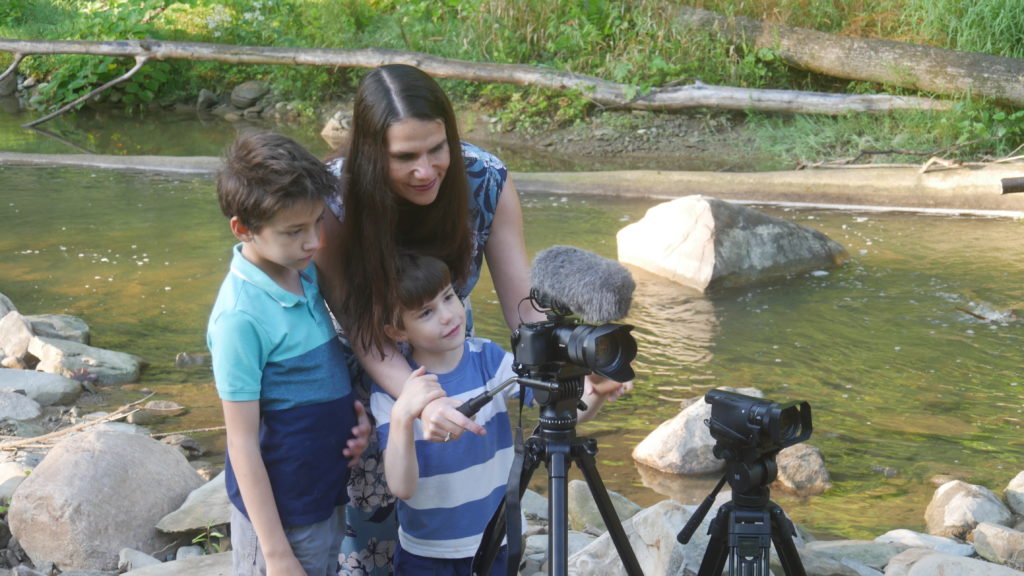 Currently, Hidalgo is working on A Family of Stories, a documentary about her father's disappearance in the Venezuelan Amazon in 1983, and how her life has been changed as she works to uncover what happened, and the kind of choices he made throughout his life that led him to the Amazon in the first place. For this film, she is working with fellow Latina filmmakers, including editor Cristina Carrasco, producer Natalia Machado, and consulting editor Andrea Chignoli. About their work together, she says, "They are generous, passionate, funny, and brilliant, and they've revolutionized my understanding of filmmaking and of storytelling in general. There's nothing like collaborating with talented people to help you evolve and reassess who you are and who you can become as an artist." Working with these crew members allows Hidalgo to create distance from her own experiences in order to make the story interesting to others, who unlike her, did not experience it. While it is sometimes difficult to maintain this space, she credits Carrasco and her husband Nathaniel Bowler, who is a character in the film and also its director of photography, for helping her figure out how to tell the story in a compelling manner. Additionally, Hidalgo hosts focus group screenings of drafts at her house in order to obtain viewers' complex perspectives when in the process of revising her work.
A Family of Stories Trailer March 2021 from Alexandra Hidalgo on Vimeo.
Besides theorizing feminist filmmaking in her award-winning video book Cámara Retórica: A Feminist Filmmaking Methodology for Rhetoric and Composition, Hidalgo is also the editor-in-chief of agnès films: supporting women and feminist filmmakers, an online publication that supports and promotes films by, for, and about women. Hidalgo, along with friend and frequent collaborator Caitlan Spronk, founded agnès films in 2010. Hidalgo describes their process this way: "Cait created the website, and I wrote the content, and we designed the look and architecture of the site together over long nights at my house and in her apartment. It was a fantastic way for a feminist publication to begin."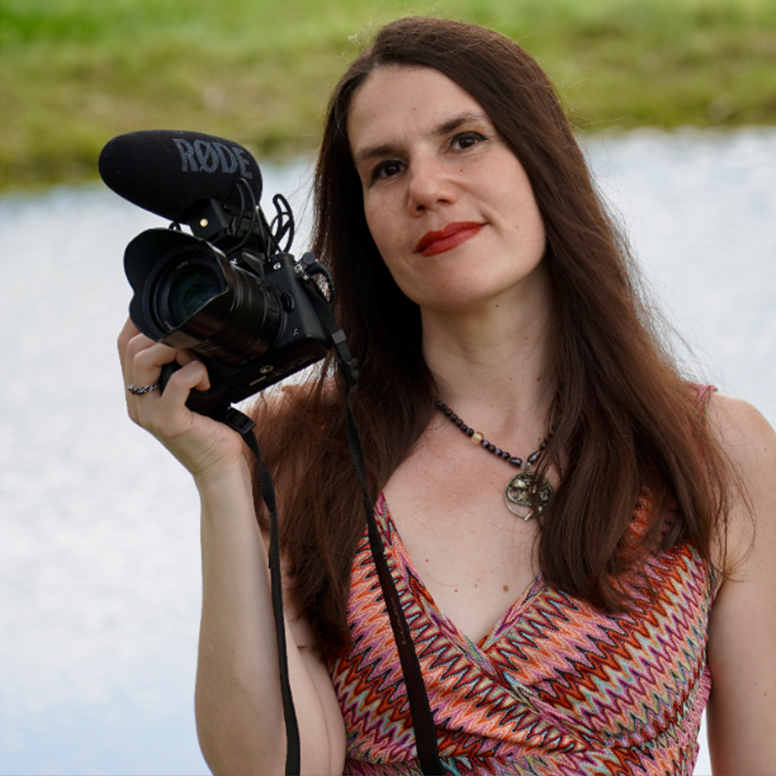 Hidalgo is glad to have seen an increase in the representation of women in film since the publication was established. She credits the rise in female representation to the #MeToo movement and activism by women in the film industry, stating, "Women's roles in front of and behind the camera have indeed increased in the last few years. We still have a very long way to go though, and we need to keep the pressure on, but at least at the moment, the film industry does seem to be willing to make changes so more women, people of color, queer people, and disabled people can play a larger role in shaping the content we watch and love. It's not enough to bring us equality behind and in front of the camera yet, but it is at least a start, and we have to make sure that it continues. agnès films is committed to fighting that battle."
Hidalgo also sees the Doc Lab's students—many of which are women and diverse in terms of race, sexuality, ability, and social class—as helping to create a richer future for the film industry and the content we all watch. Her students this semester are working on personal documentaries in "MI 311: Introduction to Documentary Production." She describes them by stating, "I'm awed by the depth of their commitment to exploring their experiences in an ethical and nuanced fashion. They have selected to tell stories that are at once delicate and powerful, and they're finding ways of doing it through aesthetically compelling choices. We help each other constantly. They pitch their projects to the class and share various drafts for everyone to comment on, so that we are all intricately involved with the projects everyone else is making. We are our own film studio and a very supportive and innovative one at that."
Hidalgo hopes to contribute to the cultivation of students who will continue filmmaking after they graduate. "The more our alumni thrive, the more we'll be able to help our current students find their way as they too graduate and enter the film industry. The media industry is in flux right now because of the pandemic and this is, of course, scary, but it is also an opportunity for new perspectives, ideas, and voices to emerge." Despite the difficulties that the COVID-19 pandemic has brought, Hidalgo remains hopeful in her students' future and talents and trusts that they will "reinvent the industry."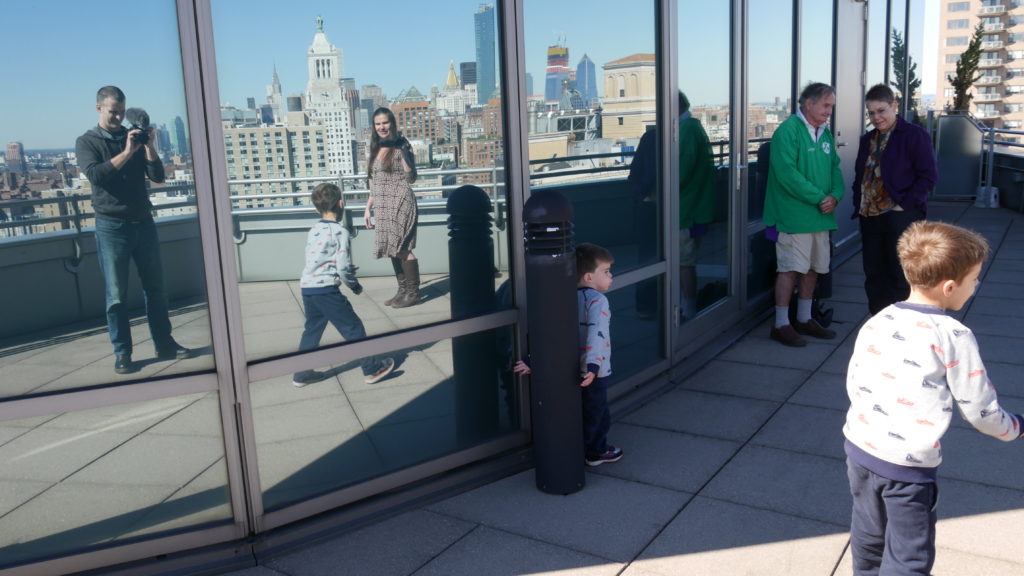 As Hidalgo continues her work, she aims to keep making meaningful projects. She states, "Most of my projects have come at a time when I've needed to learn something, and I've learned it by working on those projects. Some of those lessons have been harder to learn than others, but every project has helped me figure out a piece of the filmmaking puzzle." She and her fellow faculty members remain focused on the Doc Lab as they help students tell poignant stories through film and foster the next generation of daring documentary filmmakers. "One of the best aspects of working on a program like the Doc Lab is that you get to help shape the films and TV shows we will be talking about tomorrow and in twenty years. We help students reinvent their voices and through those voices the future of media. What could be more exciting than that for a filmmaker and faculty member?"
About the Writer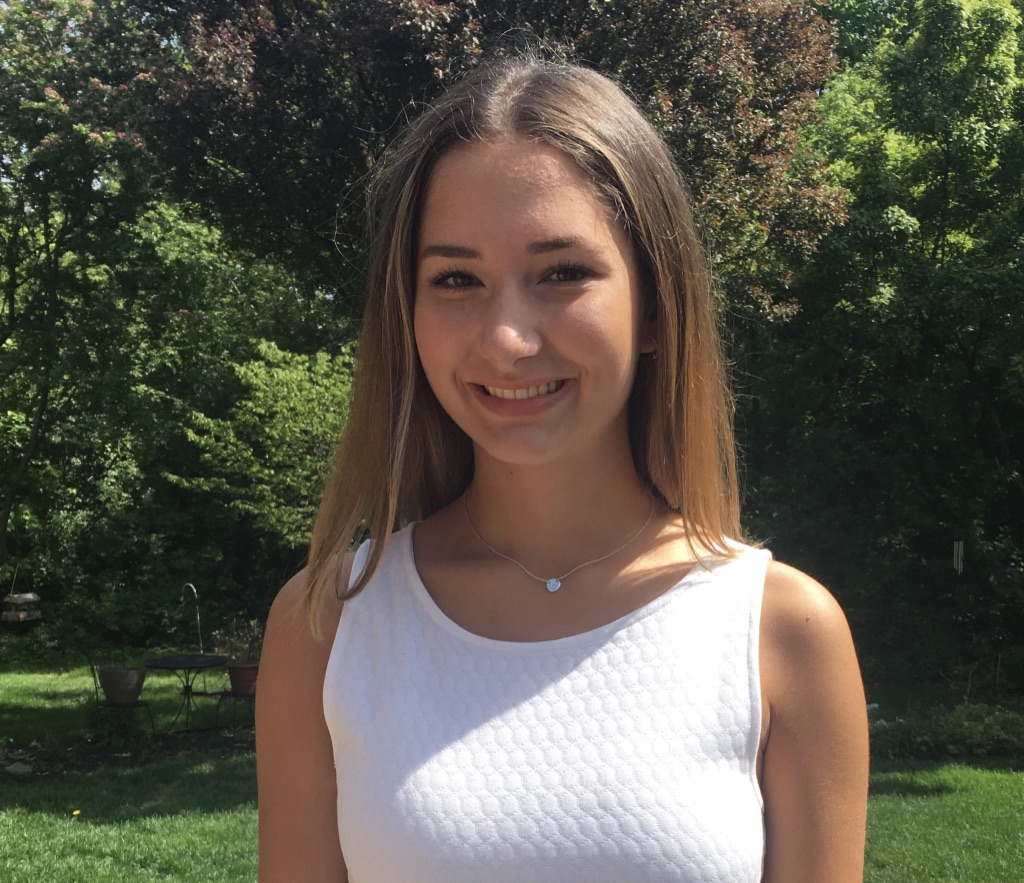 Claire Bahorski is a junior at Michigan State University and joined agnès films in February 2021. She is studying Human Capital and Society and Humanities Pre-Law, with concentrations in Public and Professional Writing and History. In her free time, she loves spending time with her friends and family. She hopes to keep improving and trying new things, and to always continue writing.